Nicole & Scott
Hi everybody, we are Nicole and Scott. Pictured with us are our Labs Cooper and Ripley and they are tail-wagging excited that we have become the proud owners of Ocean Walk Pet Sitters.
Just like us, we know your pets are important members of your family. That's why we are so happy to provide the necessary daily needs such as walks, exercise, attention, and love that your pets require when you can't be with them every hour of the day.
Along with our dogs, we also have 3 horses that we board out in Allentown. We personally know the importance of having the comfort and convenience in someone other than the two of us who can provide the quality care our horses require each and every day. This is the same assurance that Ocean Walk Pet Sitters can provide for you and your pets.
All of our employees are pet owners themselves. So you can be assured that we all love animals. We look forward to meeting you and your furry family members in the near future when you need our services.
---
Ocean Walk Pet Sitters Staff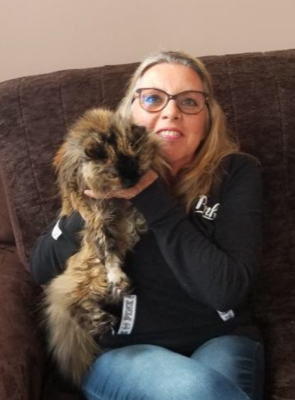 Donna
Hello everyone, my name is Donna and pictured with me is my beautiful long-haired Torti named Bella. I'm presently honored to be a volunteer at the MCSPCA as well as a certified dog walker and cat and puppy socializer. I also do rescues and have helped injured wildlife on numerous occasions. I love being part of the Ocean Walk Pet Sitters family and can't believe how rewarding this has become for me! I have many furry family members who have become best friends and make me smile every time I visit them. I'm extremely responsible and trustworthy. I will love your 4 legged family members as if they are my own, and you won't have to worry while your away. I look forward to meeting you in the near future.
---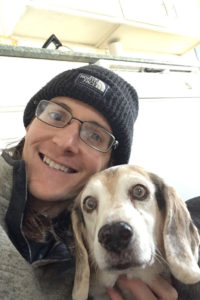 Scott
Hi everyone, my name is Scott. Caring for pets has always been a passion of mine. I grew up with an innate love for all animals and spending as much time as possible surrounded by pets. I have been dog walking, and pet sitting for family and friends for most of my life. I've been a proud companion of 10 years with a boxer dog named Layla. She is a precious member of the family and a key influence in continuing to care for pets. I pride myself in treating every pet with the same love and attentive care as I do for her. It's been an absolute joy to be a part of the Ocean Walk Pet Sitters family!
---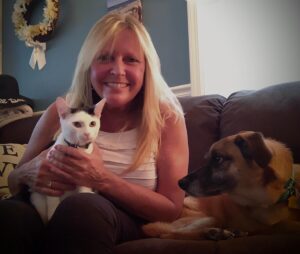 Barbara
Hi! I'm Barbara, and this is Scooby and Catstello, both rescues. I also have a guinea pig, Louise.
I have been a lifelong owner of dogs, cats, guinea pigs, rabbits, birds and more! I am a former vet tech. I was a dog walker/pet sitter in North Jersey before recently moving to the area. I have lots of experience so
you can trust me to give your pets love and attention when they are in my care, and be confident of their health and safety as well!